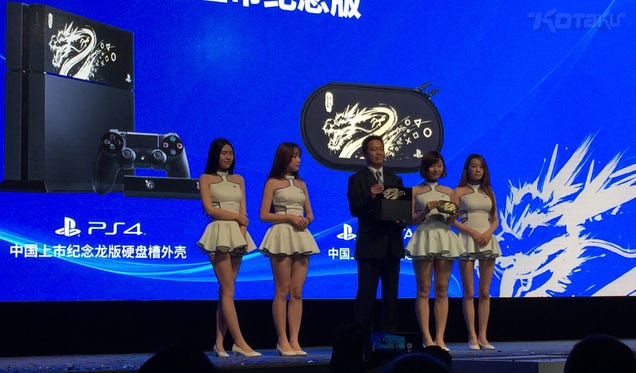 Image courtesy of Kotaku
UPDATE: Originally slated to launch in a few days on January 11th, Famitsu is now reporting that the two consoles will be delayed in China, with a release date of TBA.
The Xbox One is already out in China, but the exclusivity will not last forever. Sony has announced that the PlayStation 4 and PlayStation Vita will launch simultaneously in China on January 11th of next year.
Picked up by Siliconera, Sony has confirmed both pricing and a slew of developers working on the two consoles. The PS4 will set players back $468 (2 899 RMB) while the PS Vita will cost $210 (1 299 RMB). Titles coming to the consoles for China include Mr. Pumpkin Adventure and One Tap Hero. A full list of developers can be found below:
BEIJING AURORA INTERACTIVE NETWORK TECHNOLOGY CO., LTD.

Beijing Chukong Technology Co. Ltd

BEIJING LIANZHONG CO.,LTD

Beijing Pixel Software Technology Joint-Stock Co.,Ltd

Beijing S-Game Software Technology CO.,LTD

Beijing SparkCube Co.,Ltd

CIRCLE Entertainment LTD

CottonGame Network Technology Co., Ltd. Shanghai

Guang Zhou Net Ease Interactive Entertainment Co., Ltd

Kami Neko Studio

LinekongInteractiveCo., Ltd.

Onipunks (Beijing) Software Ltd.

Perfect World Entertainment Inc.

Phoenix Publishing & Media, Inc.

Quakegame Limited(PRC)

Shanghai Giant Network Technology Co., Ltd

Shanghai Kena Information Technology Co., Ltd.

Shanghai Muhe Network Technology Co.,

Shanghai The9 Information Technology Co., Ltd.

Shanghai Youju Information Technology Co., Ltd.

Shen Zhen Ao Le Yi Jie Computer Software Limited Corporation

Suzhou Snail Digital Technology CO., Ltd

TianJin YiLong Network Technology Co.Ltd.

Westhouse Corporation Limited

Ying Pei Digital Technology (Shanghai) Co., Limited

Yushi Games Shanghai Co., LTD
For more news on PS4, PS Vita and gaming news today, stay tuned to The Jesters Court.