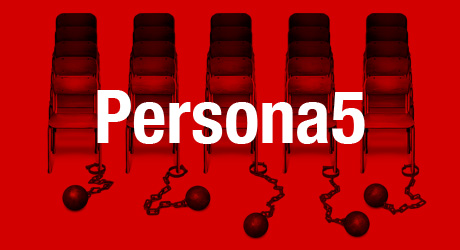 Image courtesy of Megami Tensei Wiki.
This week has been full of Persona information as Atlus continues it's stream of various Persona games, but the biggest news comes in the form of a brand new trailer for Persona 5.
The trailer is a mix of animated story sequences as well as actual gameplay, including combat and dungeon traversal. The new characters include a blonde boy and girl around the same age as the main protagonist as well as a cat character.
It appears that the main characters are a group of thieves, or something like it. At night the characters will don outfits and masks to hide their identities as they sneak around various buildings. Unlike previous games, where traversal was often done in a randomly generated dungeon floor reminiscent of old Dungeon RPGs, the game appears to incorporate an over the shoulder camera, with the main protagonist using a teleportation ability to sneak around and hide from other people inside the building.
Some of the combat was shown, and it looks very much like Persona 4 Golden, but few other details could be gleaned. Feel free to watch the trailer above and see for yourself. Persona 5 is currently in development for PS3 and PS4. For more news on PS4, Persona and gaming news today, keep your eyes on the Jesters Court.