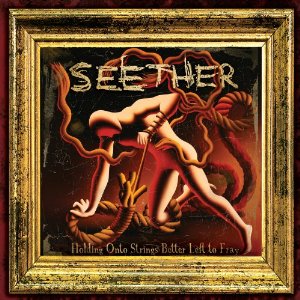 We all have our go to bands. The bands and CDs we pick up when we are in need of something or, conversely, when we have no idea what mood we are in or what we want to listen to. Seether is one of those bands for me. Ever since "Fine Again", I've been captivated. I've grown with them and it's so much fun being able to watch the band grow alongside me. When I was an angry angst-y teenager, I had Disclaimer/Disclaimer II and Karma and Effect to help me be mad at the world. When my brother died, I had Finding Beauty in Negative Spaces to help me mourn. And now with the release of Holding Onto Strings Better Left to Fray, I have an album to help me move forward.
Seether has always been a mix of angry screaming, deep lyrics about being in despair and dark heavy guitar, and that still rings true for the band in the new CD, sort of. The band has grown up and evolved and it really shows in the direction of the music presented in this newest release. Songs like "Fur Cue" and "Desire for Need" fall right in line with the first few albums, filled with screaming and anger and heavy guitar riffs and drum beats that the band has been known for, and they are perfect. It's exactly what any Seether fan would want.
However, the style of the over all album has shifted, similar to the shift that Finding Beauty in Negative Spaces made from the predecessors. The guitar play has grown significantly, especially in the songs like "Country Song" and "No Resolution" where it feels less like heavy post grunge and like professional guitar play. This isn't to say that the band couldn't play before, it's just extremely noticeable growth which is a great thing. Shaun has grown with the vocals as well which is always good for a band. Songs like "Pass Slowly" and "Tonight" seem a little more main stream, but at the same time they feel extremely heart felt and personify the softer side to all the anger Seether has been holding onto for years, similar to "Broken" from Disclaimer, but with more intensity. And "Here and Now" passes a beautiful message about moving on how tough life can be for everyone.
The deluxe edition has four extra tracks which are just as solid as the original tracks. "Yeah" shows the guitar play very well while "Effigy" falls in line with more classic Seether. "Nobody" is a great example of the growth in lyrics, and "Dead Seeds" is the weakest of the bonus tracks, but is still a strong song and fairly catchy. Unless I look at the actual tracks, I can't tell which ones are the bonus and which are the original, which to me is always a good sign for strong bonus tracks. The special features DVD is also a great add on and includes a behind the scenes featurette of the music video for "Country Song", the music video itself (Which is absolutely hysterical and really shows the bands personality) and a behind the scenes on the making of the CD.
Overall, I originally was thrown off by this album. I didn't expect the changes in tone and guitar play, and it did take me a bit to get used to, but the feelings this album evoke and the way it has emulated my own growth really help this one hit home. I highly recommend this for all fans of Seether. And those who haven't been over the years or have been on the fence, this would be the one to start at.
Here are a few links to get more information about the band and the CD:
the Band Official Site:
http://www.seether.com/
the Wiki:
http://en.wikipedia.org/wiki/Seether
the 'Country Song' Music Video:
http://www.youtube.com/watch?v=nDepqD_Wlkg
Recommended Tracks:
"Country Song", "Fur Cue", "Tonight", "Desire for Need", "Here and Now"